SAILOR® 6080 AC/DC Power Supply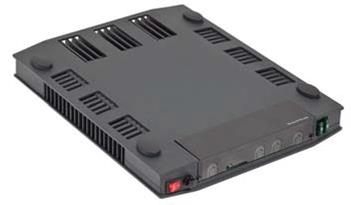 The new SAILOR 6080 AC/DC Power Supply is the first in a new line of compact modular AC/DC power supplies from Thrane & Thrane. Originally developed as a dedicated BGAN power supply unit, the SAILOR 6080 AC/DC Power Supply is also destined to work as a generic AC/DC power unit across the maritime portfolio, either as stand-alone or daisy chained to provide additional power. The new modular design set-up on PSU promises greater flexibility and ease of installation than ever seen before.
Unique Selling Points
With regards to performance the SAILOR 6080 AC/DC Power Supply delivers 300W continually with a 370W peak from its two DC Connectors (28V-32V). Input voltage is 115-230 VAC (operating) with a 6,3A fuse.
All high voltage areas (+42V) of the power supply are protected from intrusion in accordance with IP 32, meaning objects at over Ø2,5 mm pressed at unit openings (body parts, small tools, etc.).
There is built-in short circuit, and over temperature protection. In the case of over temperature the unit will automatically shutdown and restart automatically, when in temperature range. The SAILOR 6080 AC/DC Power Supply also features an AC alarm output that will go off when the power supply can not deliver the required power from the AC input.
A key point during the design of the new SAILOR power supply range has been to keep size and weight down to create a compact 1U rack mountable unit. Another key point has been the target of having passive cooling only, which have been achieved within the limited physical dimensions, creating a silent power supply.
Ease of installation and placement has been highlighted by several end-users and this has also been taken into account during development. It can be placed horizontally or vertically with the included mounting bolt kit. Cable fitting is also improved with easy access to a dual row of spring-loaded terminals via a protective plastic lid. Furthermore a sturdy cable relief bracket is also included in the box further aiding installation. Additional mounting accessories will be available mid 2010.
The modular design enables the power supply to be "daisy" chained. In this manor it is possible to stack up to three SAILOR 6080 units giving up to 900W. The load is automatically balanced between the units.